Covid-19 notice
Studio is open by appointment only.
Welcome to Luz Granite
Since 1918 the Luz family has provided Massachusetts and New Hampshire with the finest memorials. In our 100 years of creating memorials we've learned many things. Our family has learned that there is no substitute for quality, whether it be in the granites we use or the methods in which we carve them. Also, we've learned that if you treat the community fairly they will do the same for you. This is why our firm practices a hands on approach that will guide you from the initial consultation to the installation of your everlasting tribute. We thank all the families that trust us with the enormous opportunity of erecting their loved one's memorial. Our family has put together this website purely as an educational tool. What can you have for a memorial? Within cemetery size regulations, anything you want. We recommend you visit our studio to design an everlasting tribute for your family.
See our studio gallery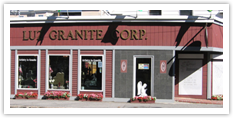 Visit our showroom and see our work in-person.
Studio Hours
Monday - Thursday: 9am-5pm
Friday: 9am-3pm