Why Luz
Guarantee
The finest in the industry, we guarantee not only the granite, but the workmanship. If by natural causes the granite has a defect, check or crack, we will replace the granite and re engrave it with no cost to the consumer. Also includes leveling and re setting knocked over memorials at no cost.
Our Clients
City of Lowell, Harvard University, Umass Lowell, St Vartanantz Armenian Church, Portuguese American Veterans. Lowell General Hospital, Town of Billerica, Town of Chelmsford, Town Of Burlington, Middlesex Community College, Mount Pleasant Golf Course, Merrimack Valley Vietnam Veterans, Quail Ridge Country Club, Oblates of Mary Immaculate, Franciscan Priests, Minuteman National Historic Park
Our Staff
Every organization is as good as the people who comprise it. Fortunately, we have the most talented, dedicated staff to assist you in your memorial needs. Everyone on our staff has only worked in the cemetery/memorial field, we have never worked in any other profession. Visit our studio and meet the people whose passion for memorials is unsurpassed.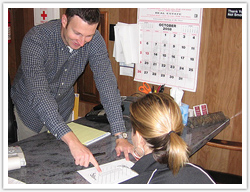 Adrian Luz Jr. - third generation memorialist who grew up under his father's tutelage. Specializes in design and memorial counseling. Also, excels in coordinating cemetery engraving for existing memorials. Adrian also has integrated new technology to the many hand crafted styles employed by his father and grandfather.
Michael Laliberte - Award winning artist, Michael comes from a stone trade family from Barre Vermont, the granite center of the world. The 1976 National VICA award winner for excellence in stone trades, Mike is an expert in design, engraving, and etching with over 30 years experience.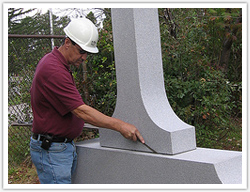 John Howe - Master installer of memorials, Jack has worked with our family for over 17 years. Also, Jack excels at cleaning and restorations of older memorials. From the simplest marker to the most advanced special project, Jack has developed an expertise in setting that's unmatched. Jack has also worked at many of the local cemeteries and his knowledge of these is vast.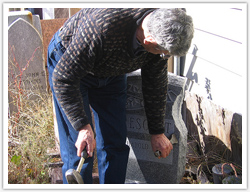 Richard Martin - Specializes in stone cutting, Dick has over 50 years experience. Dick excels in repairs and hand tooled stone cutting skills that few stonecutters possess.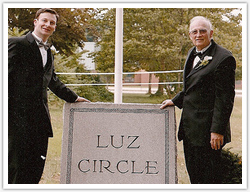 In Memoriam- Adrian Luz
1926-2011
In 2011 we lost our principal. Although Adrian is no longer with us, the ideals and the foundation he taught us are still present at Luz Granite every day. Although we miss him dearly, we are proud to carry on the decades of hard work and tradition he dedicated his remarkable career to.
Accolades
2005 "Stone In America" Magazines year end portfolio, centerpiece article for the Memorial to the Armenian Genocide
Lowell Folk Festival artist exhibitor 1994 and 2001
American Folklife Center at the Library of Congress commodation for contributions to the to the City of Lowell
2006 "Barre Life" Magazine Calendar August feature
2008 "Barre Life" Magazine Winter Edition "Work in Granite" feature
Testimonials
"We would like to express our sincere gratitude for the wonderful work, and the time frame in which it was completed for our Dad's Headstone. Your understanding, compassion, and professionalism were greatly appreciated throughout this difficult time. With heartfelt thanks" -

The family of Francis Coughlin.




"Thank you for the beautiful job you did on my husband's Harold Jones monument. Everyone was courteous and very helpful. It was a pleasure doing business with you. Thank you" -

Barbara A. Jones.




" I just wanted to thank you for the great job you did on my husband's stone, especially getting the car to the smallest detail." -

Joanne Roberts




"Thank you Adrian and Mike for doing such a beautiful job on my husband's marker. The graphics came out extraordinary. The detail is unbelievable. I will certainly recommend your company to others. The both of you were so helpful and very kind." -

Lydia Bernard




"Just a note to let you know how much I appreciated the workmanship which transformed the Devenney monument. It was way beyond my expectations! With appreciation" -

Beatrice Garvey




"I want to say thank you for the beautiful job you did on my stone and for the fairness in price you gave. You and your entire staff are wonderful people to do business with." -

Don Connolly




"Thank you so much for a wonderful job. Everything was done just as you said and you were very honest and helpful. You helped make a very difficult time much easier and your suggestions and service were very professional." -

Judith Grady